It can be real journey finding the right wheels for your BMW and than you find out that the wheels have the wrong offset. It either sits too far out or too far in. Having the wrong wheel offset has many implications, apart from those of look and design, it can have serious technical implications such as the wheels don't clear your cars brake calipers or the wheels rub on the strut. Before ditching the idea of the new wheels completely because they won't fit, why don't you try a set of wheel spacers?
Wheel spacers are the best way to fit a wheel that's not quite the right size for your BMW. Wheel spacer are designed to fit over your existing hub and space the wheel out from the hub to give you the look you want or the stance you want. Specially designed wheel spacer can even help a wheel that has the wrong center size fit over your factory hubs.
Do you need wheel spacers for your BMW?
The below fitment guide includes the dimensions for BMW wheels and tires alongside their offsets. If you find difficulties in identifying a specific fitment than you can visit our bmw wheel fitment guide n for the specific wheel change you would like to make to your BMW.
Alternatively, insert your existing bmw wheel and tire specifications below, and the desired new sizes, and the outcome will be shown on the diagram. The strut shown in the diagram below is for illustration purpose only.
YOUR EXISTING SETUP
Above values are only examples! If unsure of your current wheel size? Check here!
YOUR NEW SETUP
Above values are only examples! Change values to view fittment.
YOUR RESULTS
are automatically applied below
The diagram is only for show to help you visualize your tires and wheel fitment of your new setup.
Tire Width - The width of your tire in millimeters. 195/55ZR15
Tire Profile - The ratio of tire wall width to tire width. 195/55ZR15
Tire Diameter - The diameter of your wheels in inches. 195/55ZR15
Offset - the distance from the center of the wheel to the mounting face in mm. ET20
Rim Width - The width of your rims in inches. 7.5JX17
| Inches | Original Wheel | New Wheel | Difference |
| --- | --- | --- | --- |
| Diameter | | | % |
| Circumference | | | % |
| Sidewall | | | % |
| Width | | | % |
| Wheel Revolutions | | | |
It's important to note that the best wheel set for a BMW model is one that does not need spacers. The proper offset and size should always be used for your BMW wheels. However, we know that is not always practical or financially attainable, therefore wheel spacers are vital and necessary in some cases.
With any wheel spacer longer wheel bolts or studs will be required. The appropriate length is defined by the thickness of the spacer plus your existing wheel bolts. Existing is preferred over stock bolts in case your wheels came with a bolt different than the stock length. Test install and tighten a longer wheel bolt and ensure it has the appropriate length of engagement (see chart below). Anything less than this and you will need a longer wheel bolt.
Wheel Bolt Engaged Length:
M12 x 1.25 = 8.0 turns = approximately 10mm of thread engagement
M12 x 1.5 = 6.5 turns = approximately 10mm of thread engagement (common BMW thread)
M12 x 1.75 = 6.5 turns = approximately 12mm of thread engagement
M14 x 1.25 = 9.0 turns = approximately 12mm of thread engagement (BMW E65, E83, E53 models)
M14 x 1.5 = 7.5 turns = approximately 12mm of thread engagement (common BMW thread)
1/2″ UNF = 8.0 turns = approximately 11mm of thread engagement
What are the pros of a wheel spacer?
1) Install Wheels with Incorrect Offset
In the majority of the cases, wheel spacer are used to correct the offset of aftermarket wheels. If you have a set of wheels you really like but they don't match the offset for your car, then you can use wheel spacers to make them fit.
2) Better Appearance
If you want a unique look for your BMW, then wheel spacers can help achieve that. Depending on the spacer size, they will slightly push out the wheels and make them aligned with the fender or in some cases even push the wheels out past the fender to provide a more aggressive look with a wider stance.
3) Better Car Handling
Wheel spacers will give your vehicle better handling characteristics when you make turns and go around corners. This happens due to the wheels being further away from the car chassis which creates a wider track and lower center of gravity. You may also notice less body roll.
What are the cons of a wheel spacer?
1) Steering and Suspension Characteristics Change
Because your wheels are now out further away from the wheel hub, you'll notice that the steering will become a bit heavier or require more effort. In addition, spring and shocks will not absorb bumps and harsh road conditions as well as the stock setup they were designed for.
2) Additional Wear and Tear
When you have wheel spacers installed, additional stress is placed on nearby suspension and hub components since the wheels are further out. For instance, the wheels would no longer be touching the ball bearings. This ultimately reduces the lifespan of the wheel bearings, causing them to go bad earlier than normal.
If you've done your research and you are confident a certain size of wheel spacer will improve your BMW wheel/tire fit or the aesthetics of your car, go for it! Just keep in mind that that "too much of a good thing" definitely applies to wheel spacers.
Best BMW Wheel Spacers – Comparison Table
| Product | Key Feature | Thickness (mm) | Price |
| --- | --- | --- | --- |
| 1. KSP Forged Tuning Wheel Spacers | Laser Engraved Sizing | 12 | Check on Amazon |
| 2. ZY WHEEL Hubcentric Wheel Spacers | Included Lug Bolts | 20 | Check on Amazon |
| 3. Renn RM12MM-M14 Wheel Spacers | Absolute Material Integrity | 12.5 | Check on Amazon |
| 4. PUENGSI 60-10234 Wheel Spacer | Increase in Stability | 25 | Check on Amazon |
| 5. GDSMOTU Hubcentric Wheel Spacers | Sturdy Steel Structure | 15 | Check on Amazon |
The best wheel spacers are hub-centric, which means they will fit perfectly to the hub of your vehicle, that lip around the axle bolt, helping to center them on installation. They're aluminum to save weight, and some even come with the longer bolts you'll need to mount them (if you're going with a wide spacer).
Top 5 BMW Wheel Spacers Reviews
1. KSP Forged Tuning Wheel Spacers for BMW
Widen the available space for wheels using this subtle modification. KSP is among the best wheel spacer brand for BMW. KSP introduces a solid wheel spacer kit to improve the looks of your car.
These Hub Centric Spacers are designed to provide no vibration/wheel wobble at high speeds. The KSP Wheel Spacers will let your wheels sit on the hub lip, not on the studs like other regular adapters, which will prevent any wobble/vibration.
The KSP wheel spacers are forged from lightweight anodized Black 6061-T6 aluminum, to increase material strength and provide more durability. The wheel spacers designed by KSP in-house engineers and cnc machined to exact standards, ensuring the best wheel fitment possible for your BMW. By carefully measuring the OEM BMW wheel hubs and bore dimensions, these 72.56mm hubcentirc spacers mount with minimal clearance to prevent any vibration, retaining the stock driving.
2. ZY WHEEL Hubcentric BMW Wheel Spacers
Let's be hones ZY WHEEL is unlikely to stand on the top brands list, even so, this particular wheel spacer kit for BMW's is worth your money. It's a complete BMW wheel spacer upgrade kit with matching lug nuts. It's compatible for many BMW's including E36 E46 E90+ E60 Z3 and Z4.
3. Renn RM12MM-M14 Wheel Spacers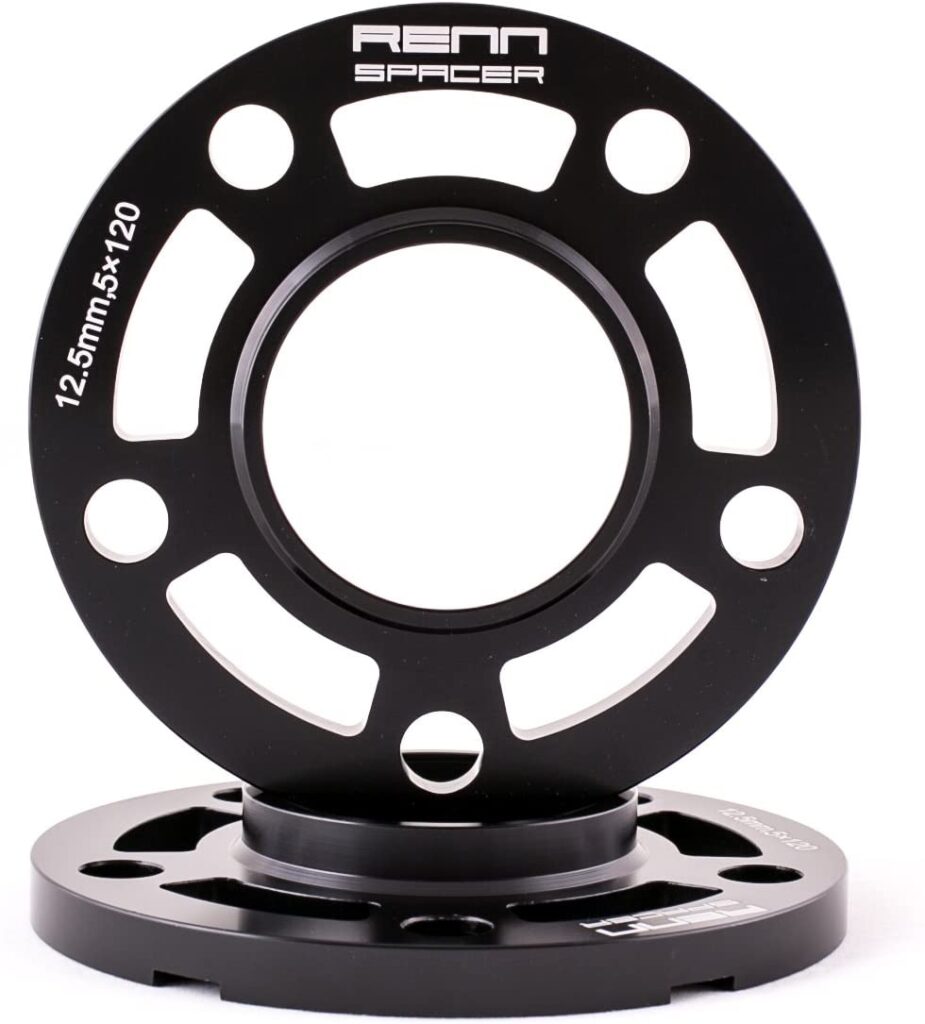 The next wheel spacer option comes from another less recognized yet conceivable brand. RENN features an entire series of spacers. Likewise to the KSP wheel spacers, the 6061-T6 aluminum gets to shape the structure of this spacer. The anodized exterior prohibits outside elements from causing any damage or corrosion. The 12.5mm clearance may seem bit unorthodox to fit extra-large wheels, but this spacer is built for those who need proper fitment and don't look for aggressive looks. This wheel spacer kit for BMW has a standard bolt pattern and it comes with ten wheel bolts, extended M14 x 1.25.
The notable downside of this spacer set is its applicability, as it explicitly fits only F10, F22, F30, F32, and F80 & F82.
4. PUENGSI 60-10234 Wheel Spacer
Everything about the design of the PUENGSI spacers appears standard from all perspectives, however the price looks good enough to hold your conscious budget.
Giving the biggest clearance this is the best size wheel spacer for BMW 335i to give an aggressive look. It provides a 25mm/1.0" clearance. It's indeed a great replacement for several popular models. This spacer will fit several BMW models including – 330ci, 330i, 330xi, 328ci, 328i, 325ci, 325i, 325xi, 323ci & 323i.
Similarly to the aforementioned spacers its surface is anodized to fight element. The exterior remains secure against corrosion or potential damage.
5. GDSMOTU Hubcentric Wheel Spacers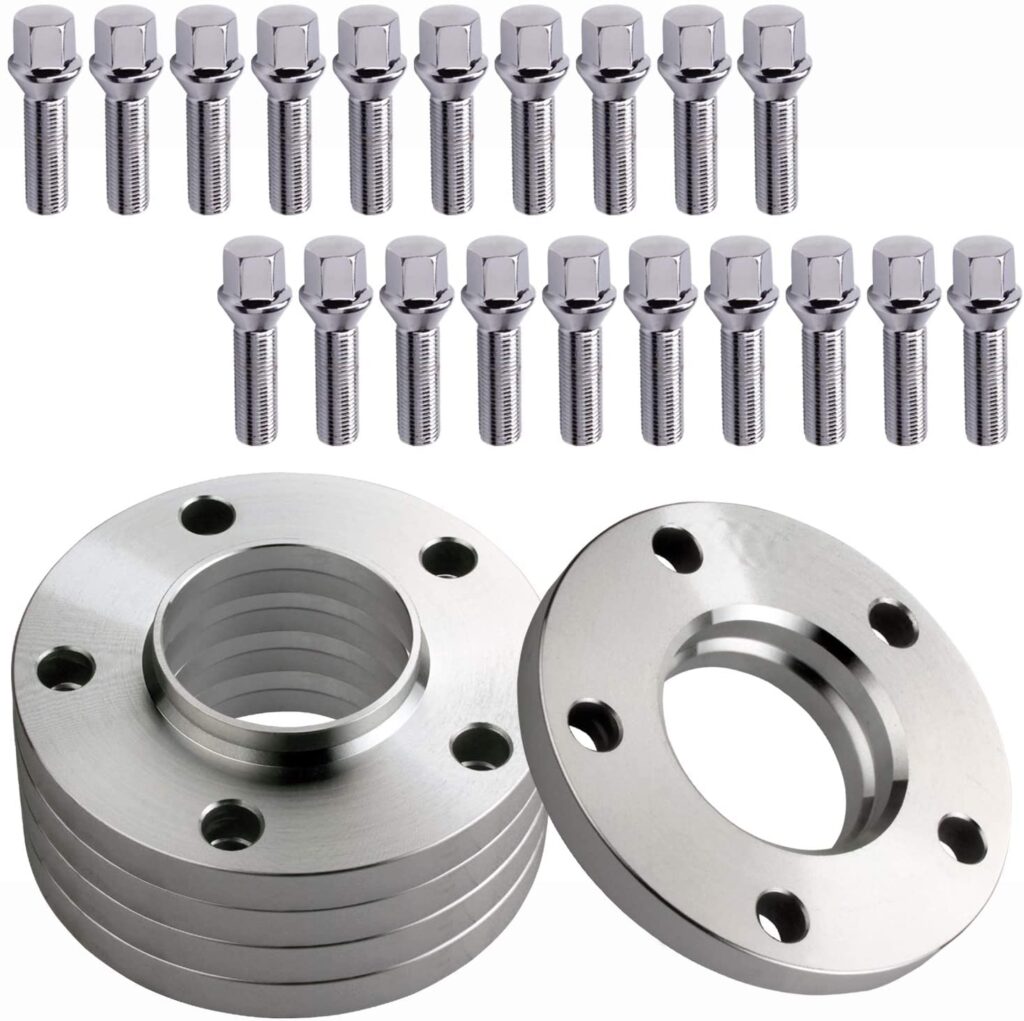 Last but not least the GDSMOTU Hubcentric Wheel Spacers offer excellent wheel fitment for the BMW E82 E88 E30 E36 E46 E90 E91 E92 E93 E28 E34 E24 E63 E64 E23 E32 E38 and E31. This Spacer kit comes with a thickness of 0.59 inches/15mm a bolt pattern of 5X4.7/5X120 and threads: M12X1.5.
How to pick Wheel Spacers for your BMW
First and foremost you need to determine what is your car's bolt pattern, most BMW's have a 5×120 bolt pattern, but if your unsure you can check here. Bolt pattern also called PCD, it's the number of fasteners needed and then the distance (in mm) between the farthest points of the circle. Since there are only a few existing patterns for BMW, it's easiest to look up it. The wrong spacer, say 5×112 instead of 5×120, won't fit.
The next thing to look for is the thickness, this will determine how far you want your wheels to be pushed out or how you can adjust to your car's offset the wheels. Too thick wheel spacers can push your tire to the fender, too narrow and the spacer might not be enough and your wheels might not give enough clearance to the break calipers.
When shopping for wheel spacers, look for spacers that include pressed-in studs and a set of lug nuts or bolts so that you don't need to purchase more hardware when your spacers arrive. You're also going to want to make sure they're aluminum for corrosion resistance and lighter weight, and while there's not much to break, a longer warranty is always better.
How to install Wheel Spacers
Installing wheel spacers is not a complicated process, however attention is required to ensure maximum safety. You should start by following the directions for any special steps mentioned in the user manual, such as the use of thread locking compound. Generally however the process starts like any other wheel change process, you properly jack up your car and remove the wheel. Put the spacer in place, then you tighten and properly torque the nuts on the spacers. Check the instructions or your vehicle manual if you need the right torque figure. Then put the wheel on the new studs and torque the wheel in place.
Important: Make sure to check your wheel torque after 60 miles whenever you have your wheels off of your vehicle.
Happy driving!