The BMW X5 manages to do a rare thing for a large SUV, it is both comfortable and fun to drive. The X5 series captures the same determination of great driving dynamics that BMW is trying to bring to every car model in their lineup. BMW marketed the X5 as a "Sport Activity Vehicle" (SAV) rather than an SUV, to emphasize its on-road ability despite its size. The X5 was the first SAV that truly captured fan's hearts with the road car-like handling and top-of-its-category straight-line performance, sprinkled with outstanding practicality and utility.
The BMW X5 series is a great SUV/SAV, through each generation BMW carefully adjusted and developed the series, to the point that today the X5 has only a handful of strong competitors on the market. That being said, even the most powerful and nimble BMW X5 will fall short of its competition without a good set of tires. Only high-quality tires will truly highlight and let you enjoy the signature BMW driving dynamics and also retain maximum comfort and security for you and your family.
Each generation of the BMW X5 comes exclusively with large wheels, starting from 18-inches. Experienced car owners have probably noticed that tires for larger wheels tend to be very expensive, especially if you want high-quality tires. Moreover, this means that you must choose carefully when buying tires for your BMW X5 – paying a lot for tires that don't perform as you expect is a costly mistake. To top that, the BMW X5 is a vehicle that really asks a lot of the tires due to the heavy body and powerful engines, the stress the tires need to take is above the average in case of such cars, therefore low-quality tires will wear faster or won't give you the same feeling of comfort or security during driving.
The market is overwhelmed with various tire options that you can choose from. Not only do you have to choose between dozens of manufacturers, but also several different tire types. Things can become even more confusing, especially if you don't know much about tires designed for BMW vehicles. There are many drivers who install tires that absolutely don't capture their driving style, or don't work with the weather in the area, which again will end up in disappointment and unnecessary frustration.
Choosing the right tires that will work for your driving style and climate conditions is of great importance. By doing so, you can ensure that you will get the best possible performance from the tires in every weather condition you encounter, while also retaining maximum comfort and dynamics. Moreover, choosing the right tires can also mean that they will last longer, and you won't need to replace them that often.
For that reason, this list of the best BMW X5 tires we prepared will help you identify the right tires for your X5 model. The list will be divided into several categories – some tires will be better for comfort-oriented drivers, others tires will be for those who prefer a more dynamic driving style. That way, we believe that every X5 owner will be fully covered.
Now, if you don't know much about all the various types of tires, don't worry. After the list of tires, you can find a detailed buying guide on BMW X5 tires. In that guide, I will carefully explain all the tires available for the X5 and why some might be better for you than others. There you'll be able to learn about things like performance ratings of tires, but also how they work in various climates. Moreover, we also talk about run-flat tires. Be sure to check it out.
What are the Tire Sizes available for BMW X5?
Below is a list of each trim level available for the BMW X5 as well as the available tire sizes for each trim.
30i 255/55R18 or 235/65R17 and 255/50R19
40i 265/50/19 or 275/45/20 or 275/45/20 (front) and 205/40/20 (rear) or 275/40/21 (front) and 315/35/21 (rear) or 275/35/22 (front) and 315/30/22 (rear)
40i w M-Brake 265/50/19 or 275/45/20 or 275/40/21 (front) and 315/35/21 (rear) or 275/35/22 (front) and 315/30/22 (rear)
50i 265/50/19 or 275/45/20 or 275/45/20 (front) and 205/40/20 (rear) or 275/40/21 (front) and 315/35/21 (rear) or 275/35/22 (front) and 315/30/22 (rear)
50i w M-Brake 265/50/19 or 275/45/20 or 275/40/21 (front) and 315/35/21 (rear) or 275/35/22 (front) and 315/30/22 (rear)
M50i 275/45/20 or 275/40/21 (front) and 315/35/21 (rear) or 275/35/22 (front) and 315/30/22 (rear)
Best Tires for BMW X5 Available in 2021
Best Run-Flat Touring Tires for BMW X5
This tire is specifically designed for the BMW X5 and has run-flat capabilities. Although the Dueler H/L is branded as a highway tire, it will handle everyday tasks just like a touring one.
On the road, the Dueler 400 RFT provides the driver with responsive handling, excellent steering feel, and high levels of grip and traction over dry and wet surfaces. Comfort levels are also amazing for a run-flat-tire.
Best Run-Flat Touring Tires for BMW X5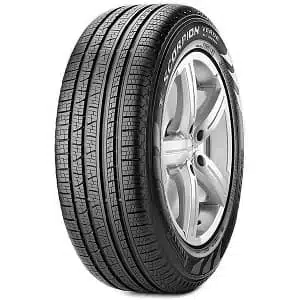 The Scorpion Verde All-Season from Pirelli is known for its excellent run-flat abilities. On the road, this is one of the most responsive touring tires, and one that offers excellent highway stability.
That said, while the Scorpion Verde All-Season is quiet on the highway, it isn't as smooth over bumps as the best touring tires. Also, Pirelli doesn't provide any treadwear warranty.
Best Regular Touring Tires for BMW X5
If you don't need run-flat tires, the CrossContact LX25 is by far the best choice out there. This tire is outstandingly smooth and quiet, yet it offers exceptional handling and stability over dry, wet, and snowy surfaces. Moreover, the LX25 improves fuel economy by quite a bit.
The only gripe we have is the 70,000-mile treadwear warranty, which, to be honest, is excellent, but lower than some other options.
Best Regular Touring Tires for BMW X5
The Premier LTX only comes with a 60,000-mile treadwear warranty, which is lower than the class-leading tires. The Premier LTX is also very expensive for a touring tire.
However, you get what you pay for here. Handling and stability are head and shoulders above the competitors, while grip and traction levels are outstanding on dry and wet surfaces.
Moreover, the Premier LTX is supremely quiet and comfortable.
Best Run-Flat Touring Tires for BMW X5
The Michelin Latitude Tour HP ZP might be even better than the Bridgestone Dueler 400 RFT in some categories, but it's also much more expensive.
On the road, the Latitude provides the driver with outstanding overall performance, including responsive and grippy handling, and exceptional stability. Like most Michelin tires, the Latitude works amazingly over dry, wet, and snowy surfaces.
The tire is also very quiet at higher speeds. That said, it becomes noisier as it wears down. On the positive side, Michelin provides a 30,000-mile treadwear warranty, impressive for a run-flat-tire.
What to Look for When Buying the Best Tires for BMW X5
1. Can you Replace the Run-Flat Tires with Regular Ones?
Run-flat tires can give you adequate traction and grip even with no pressure. These tires are specially designed with stiffer sidewalls, so they can support the entire load of the cars as long as you drive up to 50mph for up to 50 miles. Compared to regular tires, run-flat tires can have slightly different tire pressures for BMW X5.
There are various reasons behind why BMW introduced these tires, however, the two most significant one's are safety and practicality. In these vehicles, there is no requirement for a spare tire, space that can be added to increase the boot size.
That said, run-flat tires have some disadvantages. They are heavier, which hinders performance and handling, and they are also stiffer, which makes the ride much worse. Overall, non-run-flat tires will give you better performance and a better ride.
You can install non-run-flat tires on your BMW X5. Although you will lose the ability to drive with a punctured tire in this case, and you will need to purchase a tire sealant or a smaller spare tire to avoid uncomfortable situations such as being stuck in remote areas. However, do note that the suspension is specifically calibrated for compensating for the stiffness of the run-flat tires so the X5 driving dynamics might change.
2. Do I Need Off-Road Tires for BMW X5?
The X5 is accessible with BMW's brilliant X-Drive all-wheel-drive framework. The X-Drive framework is extremely well design and equipped for giving you the best traction over tricky surfaces. However, the suspension and the body design and clearance of the BMW X5 aren't actually appropriate for rough terrain driving. Dissimilar to off-road SUV vehicles, the BMW X5 has very small wheel articulation, which implies that driving over dificult surfaces is nearly impossible without damaging the body or the drivetrain.
That being said, if stick to dirt and gravel when you go "off-road", then touring tires will do a good job.
3. Most BMW X5 Owners choose Touring Tires
Most BMW X5 come equipped with touring tires, this is specifically true on lower-level BMW X5 models with six-cylinder engines or some hybrid models. These touring tires are primarily designed for comfort, lower fuel consumption, quiet rolling, and long tread life. Some modern touring tire models, speciffically higher quality range can provide outstanding overall performance.
The best thing about these tires is the extended tread life they can provide. As even their name suggests, touring tires are designed for covering very long distances, and for people that cover a lot of miles annually.
To be able to keep with that much traveling, touring tires are designed to have a very long treadlife. The best models in this category often come with a 70,000-mile treadwear warranty. However, the run-flat touring tires usually come with much lower tread life warranties. In the run-flat touring tire category, even the best tires only come with 30,000-miles treadwear warranty.
For that reason, we recommend going for normal touring tires and a tire-sealing kit. Standard touring tires are not only more durable, but they are much less expensive to buy in the first place. In our experience, non-run-flat tires last twice as long as run-flat tires, which is not insignificant.
4. Street/Sport Tires will provide better handling for the BMW X5
For those that look for the thrills of high speeds and fast corners, we recommend choosing one of the Street/Sport truck and crossover tires. As their name suggests, these tires are designed for performance and sporty handling rather than comfort.
Due to the tire's stickier tread compound and performance design the handling will radically improve on your X5 with a set of Street/Sport tires, it will immediately feel more responsive with better overall traction, as a result, you will feel more in control. Moreover, these tires provide much better stability at higher speeds, which is important for drivers that often drive on the highway.
To cherish the performance of your BMW X5 and its BMW style wheels we only recommend purchasing quality tires from reputable manufactures and brands, furthermore overall driving quality and safety are un-comparable with any cheap tire counterpart on the market. Happy driving.