The BMW wheel style 17 is part of bmw's lineup of original wheel styles.
The bmw Style 17 wheel is available in diameters of 15″ and 16″ inches, with a bolt pattern of 5×120.
This rare rim is the original wheel style for the bmw series E36, however it might fit other models given the specifications match below with the replacement wheel.The style given to this wheel is best described as Cross Spoke.
BMW wheel style 17 Technical Specifications & Parts 
| Series | Model | Except | Size | Use | ET | Kg |
| --- | --- | --- | --- | --- | --- | --- |
| 3er E36 | | M3 | 7×15 | | ET 47 | |
| 3er E36 | | M3 | 7×16 | | ET 45 | |
BMW models for which the BMW wheel style 17 fits: E36 Z3
More images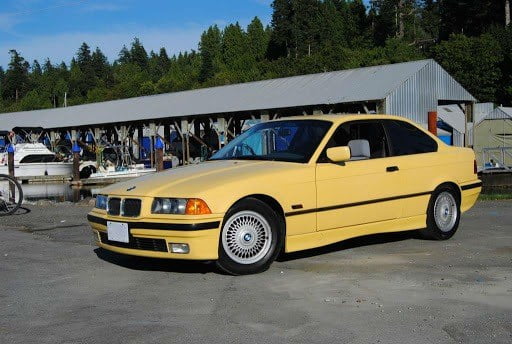 Will the BMW wheel style 17 fit on your BMW?
Bear in mind that it could be dangerous to run your BMW on tires or wheels they aren't designed to fit. If you are unsure about your current wheel specifications, please check our BMW wheel fitment chart and guide
Insert your existing BMW wheel and tire specifications, and the sizes of the BMW wheel style 17, and the outcome will be shown on the diagram. The strut shown in the diagram below is for illustration purpose only.
YOUR EXISTING SETUP
Above values are only examples! If unsure of your current wheel size? Check here!
YOUR NEW SETUP
Above values are only examples! Change values to view fittment.
YOUR RESULTS
The diagram is only for show to help you visualize your tires and wheel fitment of your new setup.
Tire Width - The width of your tire in millimeters. 195/55ZR15
Tire Profile - The ratio of tire wall width to tire width. 195/55ZR15
Tire Diameter - The diameter of your wheels in inches. 195/55ZR15
Offset - the distance from the center of the wheel to the mounting face in mm. ET20
Rim Width - The width of your rims in inches. 7.5JX17
| Inches | Original Wheel | New Wheel | Difference |
| --- | --- | --- | --- |
| Diameter | | | % |
| Circumference | | | % |
| Sidewall | | | % |
| Width | | | % |
| Wheel Revolutions | | | |