It's no secret that upgrading your BMW's wheels and tire's can have a dramatic effect on its performance and style. But when it comes to the F30 BMW, you also need to consider the importance of your tire pressure monitoring system (TMPS). A TMPS (Tire Pressure Monitoring System) is needed to alert drivers when the tire pressure is too low or too high. Since maintaining proper tire pressure is critical to vehicle safety, a TMPS helps drivers maintain the optimal air pressure in their tires. This helps to prevent tire failure and increase fuel efficiency.
While BMW F30 TMPS are quite expensive, typically costing several hundred dollars, an aftermarket TMPS for the F30 BMW can be a good alternative for fraction of the original price. An aftermarket TMPS for the F30 BMW can help you monitor your tires' pressure, temperature, and wear levels. This can help ensure that your tires are always at their peak performance, which can help you avoid costly tire blowouts and other tire-related issues. Additionally, an aftermarket TMPS can provide you with much more accurate readings than a standard tire pressure gauge.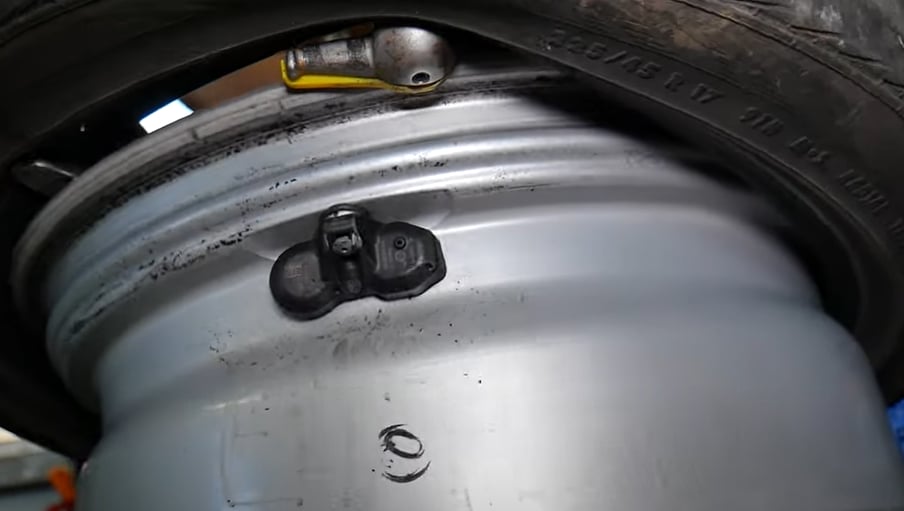 With that said, let's take a look at the top 10 aftermarket TMPS for the F30 BMW.
The Schrader 33500 EZ-Sensor Single SKU Programmable Snap-in Fixed Angle Valve Tire Pressure Monitoring Sensor (TPMS) is a programmable, snap-in, fixed angle valve tire pressure monitoring sensor that is available in three frequency options: 314.9 MHz, 315 MHz, and 433 MHz. This sensor requires programming before installation and can be used to monitor the tire pressure of cars, trucks, and other vehicles. It is designed to provide accurate and reliable tire pressure readings, helping to ensure the safety of drivers and passengers. Schrader makes a variety of tire pressure sensors, and the 33500 EZ-Sensor is one of their most popular models. It costs $28.49 and is designed to help monitor tire pressure and alert drivers when pressure levels are low. It is easy to install and can be used with most vehicles.
The TPMS is easy to install and comes with detailed instructions. It is also compatible with your vehicle's onboard computer, so you don't have to worry about any compatibility issues. Additionally, the TPMS is equipped with a sensor that monitors the temperature and pressure of each tire, so you can always be sure of the safety of your tires.
This pre-programmed 433mhz iDrive can be installed quickly and easily and is designed to provide up to five or six years of battery life. No additional programming is required, and it comes with a two-year warranty and 100% satisfaction guarantee. It is designed to replace the OE part number 36106856209 36106881890 3/2014 and up BMW. The total cost for a set of 4 ITM TPMS Tire PSet of 4 pressure Sensors is $113.99.
This TPMS system is designed to be both reliable and easy to use. It's compatible with the F30 and it comes pre-programmed, you just need to activate them with a scan tool. The battery life of the TMPS device is expected to be at least 5 years, with a temperature measurement range of -40°C to +125°C and a pressure monitoring range of 100 – 900kPa. This TMPS comes at a slightly higher price for $58.99 a unit.
This sensor must be programmed prior to installation and is designed to work with F30 OE systems. Only take 3 seconds to configure with a specific application. Supported by ATEQ, Matco, SnapOn, Mac Tools, Monster Tools, KTool, NAPA Tools, Bartec, OTC branded tools along with many others.
This sensor uses a battery that provides a longer operating life of more than 5 years and withstands operating temperatures from -86℉ to 158℉. It has 3 general matching methods: Stationary Learning, OBD Learning and Auto Relearning. A set of 4 comes at a price of $55.99.
When it comes to choosing the right aftermarket TMPS for your F30 BMW, it's important to consider your specific needs and budget. Each of the TMPS listed above has its own unique features and capabilities, so it's important to do your research before making a purchase. With the right TMPS, you can take your F30 BMW's performance and style to the next level.
How to install a TMPS onto your wheels?
Unless you have specialized tools in your garage, you will need to have a professional install the TPMS on your wheels. The installation process can be complicated and requires special tools and knowledge. Nevertheless, the steps are the following:
1. Remove the wheel from the vehicle and place it on a flat surface.
2. Remove the valve stem cap and use a valve stem tool to remove the valve stem core to de-inflate your tires.
3 Remove the tires from your wheels to have full access to it.
4. Insert the TPMS valve stem into the wheel, making sure the stem is firmly seated.
5. Secure the TPMS valve stem to the wheel using the valve stem nut.
6. Re-install the valve stem core.
7. Inflate the tires to the recommended pressure for BMW F30 and re-install the wheel on the vehicle.
8. Activate the TPMS sensor using a TPMS activation tool.
9. Verify that the TPMS is working correctly.