The BMW I3 is anything but ordinary; this quirky-looking, electric city car brings along incredibly unique and futuristic elements and one of the more talked about features of the i3 is its tires.
For years the trend for tires has been to get wider and BMW was one of the trend setters, and while it is especially true and useful for performance cars, BMW may have set a new trend for similar city dwellers like the I3.
Besides the unique looks of the BMW I3, second eye opening  feature are it's tires that catch most people's attention when they first see the car live. People just aren't used to such tall and thin tires on a car, let alone a BMW.
Efficiency & Performance
BMW engineers designed the BMW I3 wheels and tires to provide excellent grip while increasing the cars efficiency with lower aerodynamic drag.
Bridgestone was asked to make special tires just for the i3. Even though they carry the Bridgestone "Ecopia" name, they are different from any other tire that Bridgestone produces. Franco Annunziato, CEO and President of Bridgestone Europe said: "The BMW i3 is very much a car for the future. Developing a unique tire for this unique vehicle was therefore an enormously challenging but also rewarding experience. Energy efficiency is an important development criteria for all our tires at Bridgestone. However, it becomes an even more critical factor in an electric car. Which is why we have put all our knowhow, skill and passion into developing this unique tire. One that we are confident delivers the premium performance, safety and economy towards consumers who have come to expect it from both brands."
Since we're still talking about a BMW, performance was also not negligible. While BMW wanted to use a narrow tires to improve efficiency, they did not want to sacrifice on performance. In order to do so they decided to use a much taller tire than most would expect on a car of this size. The result of the increased height was that they were able to have contact patch similar to the contact patch of a MINI Cooper, which is well known for it's excellent handling.
Ulrich Krantz, BMW's product manager for BMW i said: "It's not rocket science. All that matters is the size of the contact patch. The 19-inch tires may be skinny, but their tall height generates the same contact patch as a low-section 16-inch MINI tire".
Tire and Wheel Sizes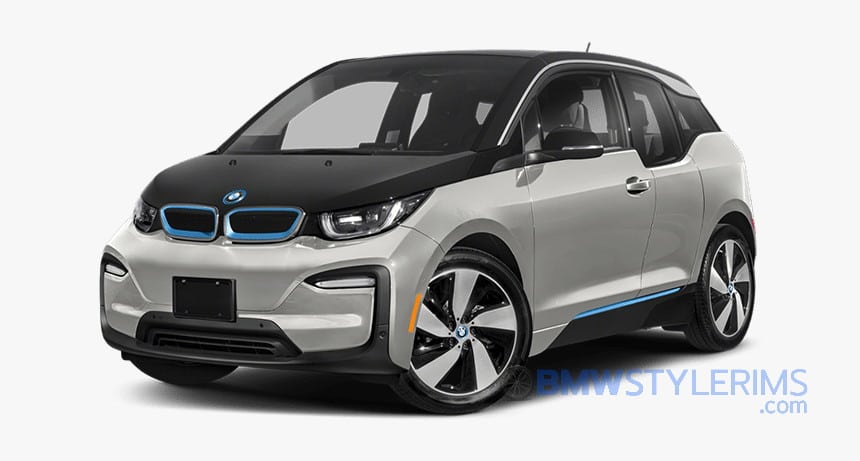 The standard wheel on the BMW i3 is the BWM Wheel Style 427 (Star Spoke) and it comes in a 19″ diameter x 5″ width on the front and rear. The OEM tire of the BMW i3, that is specifically designed for the i3, is the Bridgestone Ecopia EP600 all season tire and it comes in the 155/70 R19 size.
If you get a BMW i3 with the standard Mega trim, the wheels and tires will be the same size on the front & rear, that is 19″ x 5″ with 155/70 R19 size. However the Giga or Tera Worlds trims use a are slightly wider (19″ x 5.5″) on the rear wheels and the tires are wider and lower profile 175/60 R19 86Q.
There are the optional 20″ Double Spoke sport wheels, also staggered in size and use Bridgestone Ecopia EP500 summer tires, not all-seasons. The front wheels are 20″ diameter x 5″ width and 155/60 R20 tire size and in the rear wheels are 20″ x 5.5″ wheels and 175/55 R20 85Q tires.
The above setups are for all-season and summer tires but not if you want/need winter tires. There are two different winter tires available Blizzak LM500 & Blizzak NV. However they will only be available in 155/70 R19, meaning you'll be using the same wheel and tire size front and rear tire.
None of the tires are runflats, and the i3 does not have a spare tire. What you do get is a can of "Fix-a-Flat" tire sealant and compressed air, which if used properly should get you at least as far as your nearest BMW dealer which will likely be the only place that stocks there rare tire sizes.
Alternatives to the Bridgestone Ecopia
Summer
Continental EcoContact 6 155/70 R19
The Continental introduced a new new rubber compound called "GreenChill" for the EcoContact 6 155/70 R19 84Q, giving it a 20% longer distance life and reducing the rolling resistance by 15% compared to the previous generation. The tire is widely used by more than 12 car manufacturers. The EcoContact 6 became quickly the new benchmark and is a good summer tire alternative for your BMW I3.
Winter
Continental WinterContact TS 850 P 155/70 R19
The Continental WinterContact TS 850 P is intended as the replacement for two of its predecessors which achieved considerable success: the Continental ContiWinterContact TS 830 P and the Continental ContiCrossContact Winter.  Thanks to the outstanding design of the individual tread features, the Continental WinterContact TS 850 P outperforms its predecessors. This design not only improves handling on snow and dry roads, but also reduces braking distances in all of the conditions which may be encountered in winter.  The innovative tread design of the Continental WinterContact TS 850 improves performance on snow by up to 5% making it a good winter tire alternative for your BMW i3.

Goodyear UltraGrip Performance + 155/70 R19
GoodYear UltraGrip Performance+ is ranked #91 of 776 winter tyres based on the results of tests carried out by Autobild 2021, ADAC 2021, and other organizations. GoodYear UltraGrip Performance+ belongs to the Premium segment and is made by a manufacturer from USA. It is made in total of 161 sizes, 155/70 R19 being the smallest. GoodYear UltraGrip Performance+ replaced an older model – Goodyear UltraGrip 8 Performance.
All Season
Michelin CrossClimate 2 155/70 R19
Michelin CrossClimate 2 is a premium multi-season option, ideal for safety-conscious drivers of small and medium SUVs, compact and electric cars, as well as sedans and their sporty versions. Choosing Michelin CrossClimate 2: You save time and money on seasonal tyre changes. You benefit from lower fuel consumption and state-of-the-art technologies that are responsible for excellent performance all year round, in terms of grip or braking in a wide range of conditions.
The Michelin CrossClimate 2 include thermoadaptive compounds that adapt to the temperature of the road surface. The V-Ramp chamfer of the tread blocks improves braking on wet roads, while the P-edge on snow. The directional tread pattern ensures that water is effectively channelled away from under the wheels.  Michelin CrossClimate 2, compared to CrossClimate+, offers 10% less rolling resistance.
Goodyear Vector 4Seasons Gen-3  155/70 R19
The Goodyear Vector 4Seasons Gen-3 provides improved grip for better handling on snow. The large amount of sipes at the center of the tyre's tread provide for better snow biting, improving handling on snow by 5% in comparison to the previous Vector 4Seasons Gen-2. Goodyear's Dry Handling technology provides strong crown and shoulder blocks that reduce the deformation of the tyre during heavy maneuvers improving dry braking by 5%.