Though they first appeared in the mid-1980s, run flat tires (RFT) are now more popular than ever. With auto manufacturers like BMW, making them standard in new models, more consumers are asking about run flats, their advantages, and how using them impacts driving.
Run-flat tires are standard on 14% of new vehicles, according to Edmunds data. You'll now find run-flats on the majority of BMW and Mini models followed by Mercedes-Benz and Cadillac sedans. BMW, the car manufacturer that wants to give their customers the ultimate driving experience, adopted this self-supporting tire technology for several reasons:
Reducing weight and creating extra space by eliminating the spare tire.
Increasing driving experience, by enhancing safety.
Run flat tires are said to be better for the environment as it can translate in reducing tire usage by 20 percent which means the saving the natural resources and energy needed to make them.
BMW now puts run flat tires on almost every new car you will buy in the dealership. The only real exception to BMW's use of run-flats has been with the M models and electric "I" models. BMW's M models continue to be fitted with traditional performance tires.
The reason behind it, is simple – run flat tires are heavier than normal tires. On performance cars, heavier tires have a negative impact on acceleration and dynamics, while on electric cars it can take away from the range a car can cover.
That said, the differences that it can have on the track for performance BMWs, will definitely not be felt during regular driving conditions in case of sedans and SUV's.
Probably the most attractive thing about the self-supporting tire technology is that in case of a puncture or loss of air pressure you won't need to replace them immediately. You are free to drive up to 50 miles (80km) and at speed up to 50mph (80 km/h). Run flat tires are also less likely to explode during a puncture, which means that they are also much safer than normal tires in case of a sudden loss of pressure.
While "Run-flats certainly have a place in the market, and the technology is getting better, and it will continue to improve. But it's not quite yet the same as radial tires," said Matt Edmonds, vice president of the Tire Rack in South Bend, there are quite a lot of good run-flat options available on the market today.
For BMW owners it's important to know what tires they should use, run flats started to be first used among 2003 models of the Z4 and the 5-series and since then BMW introduced run flats to newer models. In 2009, BMW decided to fit all of its models with run flat tires as standard.
It's important to highlight that only BMW models equipped with a Tire Pressure Monitoring System (TPMS) can be safely fitted with run flat tires. The TPMS lets drivers know as soon as a pressure loss occurs. Without the TPMS alert, which is often the only indication, drivers may not know they are driving on an under-inflated tire. It is essential for road safety that attention is paid to warnings of low tire pressure which all vehicles using run flat tires must have.
What are the advantages and disadvantages of run flat tires?
The most widely used type of run-flat technology in use today is the self-supporting tire, this is the technology used by BMW for most of their models. The technology relies on the heavily reinforced tire's sidewalls that are able to support the vehicle in case of partial or complete air pressure loss.
Advantages:
You can continue your drive on a flat tire: The number one benefit of a run flat tire on your BMW, is that it allows you to keep driving on a flat about 50 miles (80km) after complete air pressure loss. Drivers have to reduce their speed to 50 mph (80km/h) to get the maximum range. The BMW's owner's manual will have exact figures for each tire/vehicle application.
Better stability after a sudden deflation: Because this tire can support the vehicle for long miles without air, even in case of a sudden loss of pressure drivers will be able to keep the car under control seeing less drastic effect on steering and handling.
Lower vehicle weight: With the spare wheel and tire repair tools eliminated, more space is freed up for packing and the vehicle has to carry less weight. In fact, eliminating the spare tire and reallocating that space to some other purpose (styling, interior room, etc.) is a big reason why BMW offer run-flats.
Disadvantages
No spare: BMW models equipped with run-flats do not carry a spare wheel and tire, which means they don't have a jack or tools either.
Stiffer ride: The stiff sidewalls that make a run-flat work also result in a harsher ride. If the vehicle came with run-flat tires from the factory, the automaker usually tunes the suspension to offset the rougher ride.
Cost: Run-flat tires are more expensive to replace. Prices will vary by tire type and purchase location, but run-flat tires (RFT) typically cost $150-$500 per tire for a passenger vehicle, or about 35%-200% more than standard tires. For example, for a 2010 BMW 328i sedan, Goodyear offers standard tires for $111-$192 or run-flat tires for $247 or $327.
Less on-shelf availability: Because run-flat tires aren't as popular as standard tire, drivers shouldn't expect to find them at any tire shop and buy them. It may be easier to do so in largely populated areas, but if you're driving a BMW on run-flats and you are on a road trip and get a flat near a small town, you'll probably have to make a detour to find a suitable new tire.
An interesting observation was noted in 2013 study by J.D. Power where they found that people replaced their run-flat tires an average of 6,000 miles sooner than owners using conventional radial tires, suggesting a shorter thread life. Opinions differ on the reason, but one theory is that tire producers put a soft tread compound on a run-flat tire to counter the harsh ride. A side effect of the softer compound is a shorter tread life.
Actual data on the longevity of run-flat tires is not conclusive and it's been hard to find. But according to a 2018 J.D. Power owner survey, run-flat tires owners reported higher overall satisfaction. They did not lag behind conventional tires in the survey.
Sure, you can shell out a ton of cash and buy premium tires, but what if you own an older BMW and want to save some money? To help you choose the best run flat tires for BMW, we created a Top 10 list of the best products on the market right now. The list will be divided into several categories, simply because BMW sedans don't use the same tires as BMW SUVs or sports coupes.
After the list, you will be able to learn more about run-flat tires. Things like their advantages and disadvantages, and pick out the best run flat tires you can buy, but also the types of tires that are used for various types of vehicles. In other words, we will explain why we divided the list into those categories.
Top rated summer Run Flat Tires recommended for BMW
BMW wheels come in different sizes from 16 to 20 inch in diameter that will influence the size of your tire. Note that different tire sizes produce different performance results during testing, so to find out what size you should use on you BMW check our BMW wheels and tires fitting guide to learn more on what wheels to use.
High Performance All Season RFT: Michelin Pilot Sport A/S Plus ZP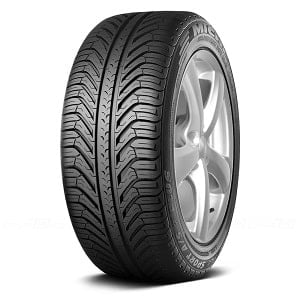 Although this tire is available in limited sizes, it's one of the best-performing run flat tires money can buy. The Michelin Pilot Sport A/S Plus ZP is an ultra-high performance all-season run flat tire, having a low-profile, with a high-speed index, specifically designed to temporarily support the weight of the car even after a sudden loss of air pressure. It combines increased all-weather performance, wet grip, and tread wear with year-round traction, including in light snow.
High Performance All Season RFT: Bridgestone DriveGuard Run-Flat
The Bridgestone DriveGuard is an excellent choice for BMW owners who don't want to compromise on comfortable and a quiet ride. Having all typical run flat properties, it proves to be one of the most popular run-flat tire on the market right now, and it is even the most used run-flat tire as original equipment for new vehicles.
The Bridgestone DriveGuard is also very good in the performance department. While it may not dethrone summer tires in dry conditions, it still offers acceptable levels of grip and traction and responsive enough handling. Wet traction and resistance to hydroplaning is surprisingly good.
High Performance Summer RFT: Uniroyal RainSport 3 SSR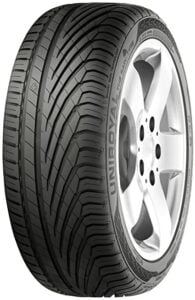 The RainSport 3 SSR is the latest-generation tire to be designed by Uniroyal, it is ideally suited to high performance BMW models as well as smaller models or SUV's. The RainSport 3 SSR features 'Shark Skin' in-block grooves, which cuts through the tread blocks to efficiently drive water expulsion and guard against aquaplaning. The RainSport was designed specifficaly for wet conditions and there it feels itself at home, but it is equally good in dry conditions.
A unique asymmetric tire tread pattern, with an EU Tyre Label 'A' grade, ensures optimal road contact and steering control. Meanwhile, Fast Curve Configuration technology gives the tread blocks added flexibility for exceptional grip on cornering.
Finally, the RainSport 3 is a self-supporting runflat (SSR), allowing you to drive a further 50 miles at up to 50 mph in the event of a puncture – plenty of time to safely access the next garage.
High Performance Summer RFT: Firestone Firehawk Wide Oval RFT
This tire can be used if the fitment of 245/40R18 and 285/35R19 fits your BMW. Thw Firestone Firehawk Wide Oval RFT is designed to deliver responsive handling and traction in dry and wet conditions.
The Firestone Firehawk Wide Oval RFT sports three core elements: CO-CS, O-Bead, and Long Link Carbon (L. L. Carbon). CO-CS is a Computer Optimized Component System used in the design and manufacturing process, so that they work more cooperatively to create a tire that doesn't significantly sacrifice one area of performance for another. O-Bead provides the tire with a more round structure, minimizing overlapped joints in the bead area. This also helps result in an improved ride. Lastly, L. L. Carbon helps the rubber compound resist microscopic tread tearing, normally related to wear.
High Performance All Season: Continental ContiProContact SSR (Self Supporting Runflat)​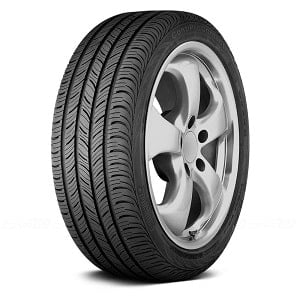 Continental one of the first tire makers that started producing run-flat tires, which they call SSR (Self Supporting Runflat)​. Like every other run-flat tire, this one can also travel for up to 50 miles without any pressure inside, up to a speed of 50 mph, even though Continental says it is only a MOExtended tire.
It features an all-season tread compound molded into a symmetric notched-rib tread design for continuous tread contact and wide circumferential grooves for better wet traction and resistance to hydroplaning. Being a grand-touring tire, the Continental also promises BMW drivers less noise and better comfort.
The ContiProContact SSR really does offer great performance on the road. Handling is one of the best in the grand-touring run-flat class, with precision and responsiveness that I've come to expect only from high-performance tires. Wet traction is a bit worse, but still near the top of the class.
Performance Winter/Snow RFT: Pirelli Winter Sottozero 3 Run Flat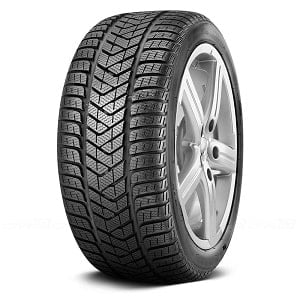 The Pirelli Winter Sottozero offers a very precise and responsive handling in cold weather conditions – the tire immediately reacts to your steering input. The grip is excellent too – the specialized polymers used in the rubber compound dramatically improve stopping power.
Being a winter tire the Sottozero 3 Run Flat also offers great performance in the snow and on ice. Traction is very good, braking is stable and handling is predictable.
Performance Winter/Snow RFT: Bridgestone Blizzak LM-60 RFT
Another excellent Run flat winter tire is the Bridgestone Blizzak LM-60 RFT available in 16-, 17-, and 18-inch sizes. Mainly developed for the MINI Cooper, BMW X5, and BMW X6, this tire combines driving traction on dry, wet, and snow-covered roads with the ability to drive up to 50 miles at up to 50 mph even if the tire goes flat.
This tire combines the basic tread design of Bridgestone's Blizzak WS60 with a high-silica tread compound so it offers high-speed durability with dry road, cold weather handling, and snow traction. The high-silica content winter/snow tread compound is molded into a directional tread design on this tire and features independent tread blocks with 3D zigzag sipes that help keep water away from the tire's contact patch. The combination of these two features provides hydroplaning resistance and greater driving and braking abilities on snow-covered roads.
Grand-Touring Run Flat Tires are the Best Choice for lower end BMW Models
If you drive a BMW 1, 3 or 5 Series, the best choice would be to acquire a set of grand-touring tires. These tires are specifically designed to offer a balanced driving experience under regular driving style and conditions. Grand-touring tires are a tad more expensive version of touring tires, which are made for lower end mid-size sedans, compact, and sub-compact vehicles.
The main advantage of grand-touring tires is their outstanding tread life. The best tires in this category often come with a 70,000-mile tread wear warranty, which means that you can use them up to 6 seasons without worrying about replacing them. Grand-touring tires are also very quiet and comfortable, and that's true even for run-flat models making them a perfect choice for BMW drivers who cover long distances on a regular basis.
Grand-touring tires are adequate for the average driving conditions, these tires won't be a good choice for BMW drivers who look for more performance or would like to test their cars on the track. Depending of the brand, but generally grand-touring tires are well balance for all driving conditions, that been said they are also excellent when it rains, especially in very heavy rain, thanks to their outstanding hydroplaning resistance.
Crossover/SUV Touring Run flat Tires are the Best Choice for BMW Crossovers and SUVs
Similar in properties to grand-touring tires, the Crossover/SUV touring tires are designed specifically for crossovers and SUVs. In the BMW lineup, the BMW X1, X2, X3, X4, and X5 work great with these tires, albeit only the less powerful models.
Like grand-touring tires, crossover and SUV touring tires last very long, with tread wear warranties that range from 60,000-miles to 80,000-miles, depending on the model. They are also very comfortable and quiet and provide the driver with enough traction, grip, and braking power for most circumstances.
If you own one of the M models than you will need different types of tires. Touring tires aren't the best choice for performance driving, but you are also not able to find them in dimensions made for high performance versions of BMW crossovers and SUVs.
High-Performance Tires are the Best Choice for Sporty BMW Models and M Versions
BMW's M lineup doesn't come with run flat tires, as run flats are heavier than regular tires. You may find Run flats on some of the newer models. As their name suggests, high-performance tires, are specifically designed for performance cars. They are more focused on cornering grip , traction and responsiveness, rather than comfort.
Thanks to that, high-performance tires are much more responsive than grand-touring tires – the moment you turn the wheel, the car turns. Then, high-performance tires also have much better traction, especially on more powerful cars, much better grip in the corners, and stronger braking performance. Overall, these tires will give you by far the best driving experience of all types.
Performance tires also have worse ride quality than grand-touring tires due to the stiffer sidewall and produce more noise at higher speeds. On top of that, they are also much more expensive than grand-touring tires.
Street/Sport Tires are the Best Choice for Performance BMW Crossovers
BMW is one of the few manufacturers that offers sporty crossovers, some even with the "M" badge. If you happen to own one of those vehicles, then you will need Street/Sport tires. These tires are specifically designed for fast crossovers and are similar in most regards to high-performance tires. Compared to Crossover/SUV Touring tires, these have worse ride quality and more noise on the highway, but also a much more responsive ride. The best tires in this category have high levels of traction and grip, and also excellent braking performance. That said, they mostly come in very big sizes (over 18-inches), and are very, very expensive.
To get the best driving experience from your BMW, you should always try to aim to get the high-quality tires from reputable manufacturers!